As soon as November arrives, the thought of Christmas suddenly comes to mind as do the words Glühwein and Glögg. Throughout Europe, Christmas Markets are getting bigger and better and are a big draw for all kind of travelers. We recommend you to hire one of our vans, point them all in the map and start driving. This is a route you will never forget.
Christmas markets to vitis with you Campervan
Germany is the birth place of the modern Christmas market where stalls selling Christmas gifts, food and Glühwein have been set up every year in the Marienplatz since the 14th century!
Seems like the rest of the world has cottoned on as you will find Christmas markets in most cities and ski resorts these days and they are getting bigger and more extravagant each year.
The best thing about Christmas markets is that whilst they all tend to offer a typical festive atmosphere, they are all different in that they tend to focus on the local regional products and folklore.
Having snow on the ground makes it feel really festive and thats why many people travel to the ski resorts in Eastern Europen or Scandinavian countries where there is a far higher chance of snow cover in early December.
#1     Innsbruck christmas market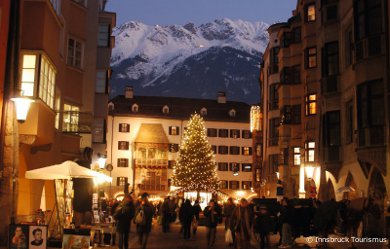 Dates: 15 November - 23 December
Innsbruck is home to several Christmas markets situated in the Old Town, Maria-Theresien-Strasse, Marktplatz and Hungerburg. The Old Town Christmas Market in the heart of the historic centre is probably the most interesting and is very traditional. Wheras the Christmas Market of Maria-Theresien Straße is in the main shopping area can get very busy but great fun.
All the markets have stalls selling traditional nibbles, drinks, souvenirs, Tyrolean handicrafts and Christmas decorations. Glühwein is in abundance and together with the traditional delicacies such as Kiachlns and Spatzlns, will certainly keep you warm on the snowy nights.
#2     Zell am See christmas market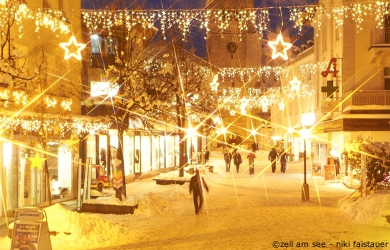 Dates: 19 November - 24 December / Thurs to Sunday then daily plus 22, 23 & 24th Dec
The stunning medieval town and ski resort of Zell am See sits on the edge of Lake Zell and just 80km from Salzburg.
On all four weekends leading up to Christmas, the Magical Christmas Market opens its doors where around 20 stalls showcase gorgeous woodwork and toys, deliciously spiced mulled wine, freshly baked Christmas cookies, roasted almonds and home-knitted products. There is also musical performances and numerous events for children.
At this time of year, you can also go skiing on the Kitzsteinhorn glacier above Kaprun - a few minutes drive away.
#3     Cortina christmas market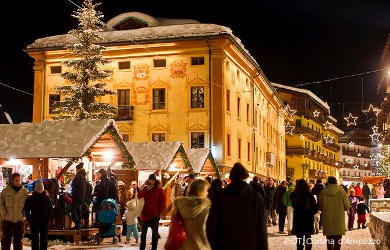 Dates: 5 December – 5 January
Cortina is one of those ski resorts that oozes style and sophistication everywhere you go and is one of the prettiest villages in the Dolomites surrounding by towering 3000m jagged peaks.
During December, Corso Italia, the heartbeat of Cortina d'Ampezzo with its chic and stylish shops and restaurants, plays host to a dazzling display of wooden stalls for the Christmas Market or in Italain, the Mercatino di Natale.
As you can imagine, the street vendors serve up mouth-watering local food, mulled wine and roasted chestnuts. And, being so close to the Austrian border, the cuisine is a blend of the best of both worlds.
#4     Salzburg christmas market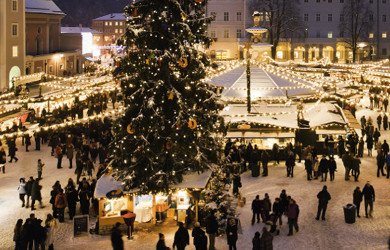 Dates: 19 November - 26 December
The Salzburg Christmas market is held every year in Residence square, at the foot of the Hohensalzburg fortress in front of the impressive Cathedral. In the middle of the square stands a massive 28m Christmas tree!
The market prides itself for the diversity of its items, from objets d'art to tree ornaments, traditional handicrafts and fine baked goods. Mulled wine is popular here, alongside punch, Salzburg pastries and roasted chestnuts.
Salzburg is also the gateway to some of Austria's finest ski resorts including Zell am See, Saalbach-Hinterglemm, Maria Alm and the thermal spa resort of Bad Gastein.
#5     Gstaad christmas market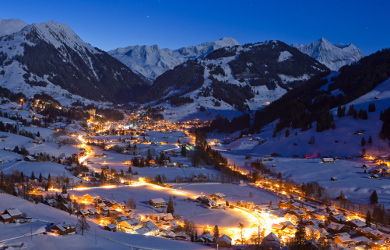 Dates: 6 December - 4 Janauary
Gstaad is a fairy-tale landscape of wonderful chalets neatly tucked into the Bernese Oberland mountains.
Its a special resort - chic and sophisticated yet when it comes to early season skiing, the highlight of the apres-ski is wandering around the Christmas market.
The market stalls are packed with lovely traditional Christmas gifts and culinary delights from around the area. And, if you are feeling energetic, you can try your skills on the ice-rink next to the market.
#6     Kitzbühel christmas market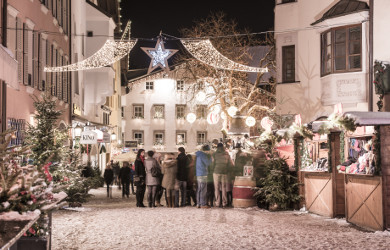 Dates: 26 November - 24 December
The world famous town of Kitzbühel has a fantastic Christmas Market giving all its visitors a unique experience and is well worth a visit.
Based in the old medieval centre, the highlight is the stunning nativity scene created by local artists.
The streets are lined with numerous stalls selling crafts and fine gift items from around Kitzbühel and its neighbouring villages such as St Johann in Tirol and Jochberg.
With its electric atmosphere, there is nothing better than to sample the culinary specialties accompanied by some delicious Glühwein.
#7     Bormio Ski & Spa Resort christmas market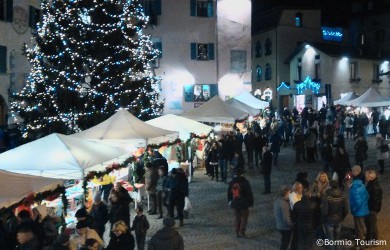 Dates: 6, 13, 20 & 24 Dec
The Christmas market is held at the piazza Kuerc where there are dozens of stalls selling items, decorations, crafts and antiques as well as stands of 'gift ideas' at the Ice Palace.
Apart from being a medieval village, Bormio is also a thermal spa resort providing thermal treatments, swimming pools, water parks and state of the art wellness facilities. Bagni Vecchi and Bagni Nuovi of Bormio is the place to get pampered in luxurious surroundings.
way from the market and spas, Bormio is full of wonderful shops, restaurants and cafes in the medieval centre and is a great place to simply wander around and explore the back streets.
#8     St Moritz christmas market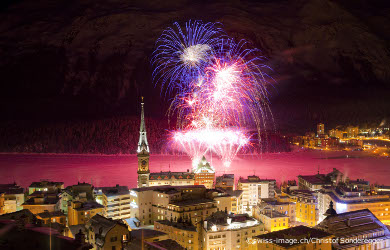 Dates: 4 December - 4 January
St Moritz sits on the world stage when it comes to luxurious ski resorts with glitzy cosmopolitan hotels, wine bars and fine dining. It also hosts a fabulous Christmas Market.
Set within the pedestrianised area of the resort centre with magnificent views of the frozen lake, the market has various stalls where you can find the perfect Christmas gift as well as delicious treats and traditional products from the Engadine valley.
At 1900m, St Moritz is one of the highest ski resorts in the Alps and you can be sure that snow will be on the ground well before the beginning of December making the market look and feel even more festive.
#9     Seefeld christmas market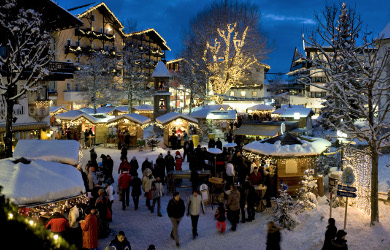 Dates: 27 November - 6 January
Seefeld is a classic mountain resort sitting at 1200m on a sunny plateau just 25km from Innsbruck and close to Germany's highest ski resort of Garmisch.
The Christmas Market of Seefeld, which has been the venue for the Olympic Games in 1964 and 1976, has got much to offer for all ages. From local culinary delights and handmade products from the local artisans to numerous childrens activities. And, to accompany you on your stroll around the stalls, there is a live orchestra playing Christmas carols.
#10     Garmisch-Partenkirchen christmas market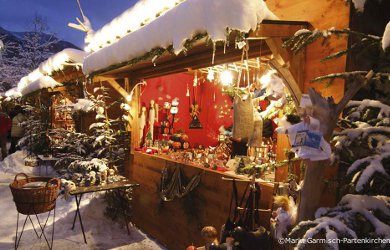 Dates: 28 November - 23 December
Garmisch is Germany's main ski resort - a Bavarian town at the foot of the Zugspitze mountain complete with it's snow-sure glacier at the top. So, after a day on the slopes in early December, there is nothing better than wandering around the market stalls and keeping warm with a hot Glühwein or Glögg.
The market is held in Richard Strauss Platz in the pedestrian zone of Garmisch and comes with typical Bavarian "knees-up" atmosphere - great fun for all ages. Christmas music, nativity scenes and horse-drawn sleigh rides. Add in the decorated stalls offering great local food and handicrafts and your trip to the Garmisch Christmas market will be a memorable experience.
#11     Corvara - Dolomites christmas market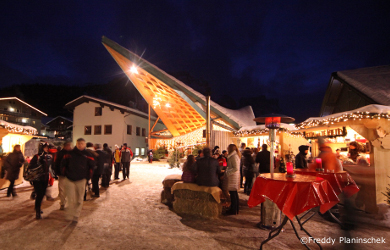 Dates: Dates: 5 December - 3 January
Corvara is a picture postcard ski resort in the heart of the Italian Dolomites within Alta Badia - the culinary capital of the Dolomiti valleys. For the 2015 season, Corvara is continuing with its Christmas market after the success of its inaugural season in 2014. Being in the Ladin speaking part of the region there is an interesting mix of Austrian - Italian delicacies and after a day on the slopes, the hot Glühwein or Glögg is just whats required.
SOURCE: My chalet finder.
To read the original article click here.
FURGOCASA
¿Te apetece alquilar una Camper? Consulta nuestras tarifas y condiciones.
ALICANTE - MADRID - MURCIA
Te esperamos!!