Whit this little guide from Furgocasa we hope to give some info to our clients and other travellers alike about what and how to eat here in Murcia. You may not need to hire a campervan to enjoy all this special food (Murcia city has it all), but yes to try it in the best places.
Introduction
Murcia has a rich and varied gastronomy. Largely down to the many ingredients that you can find in the region, many of which are unique, like Calasparra rice, seafood and fish from Mar Menor or the fruit and vegetables from 'La Huerta'.
We also owe the richness of our food to a variety of different cultures that have influenced us when passing through. For example, thanks to the Muslim community La Huerta Murciana grew and developed itself, an important pillar of our gastronomy.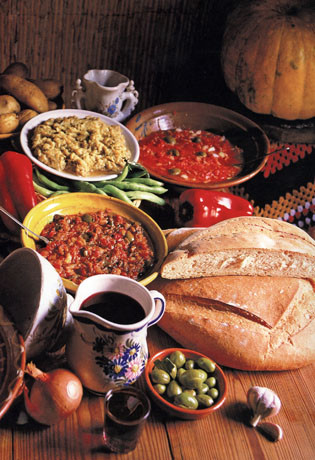 Ingredients and Products
There is a wide variety of products in Murcia, without which it would be impossible to speak of the region's gastronomy. Murcia is rich in fruit and veg from La Huerta, seafood and fish from the sea, and of course meat from its farms and many types of game.
Also, you can't forget the fact that Jumilla wine and Calasparra rice, both native to Murcia, are known throughout the world.
'La Huerta' of Europe
The valley through which the River Segura passes through Murcia and its surroundings is called Huerta de Murcia. The river water, the earth (extremely fertile), as well as the farming techniques passed down by the Muslims, makes 'La Huerta de Murcia' one of Europe's leading producers of agricultural products.
There are many products that can be farmed from this area, however the most important are pepper and tomato. These two products are essential in Murcian cooking and you can't even begin to imagine how many different types of pepper and tomato we actually have.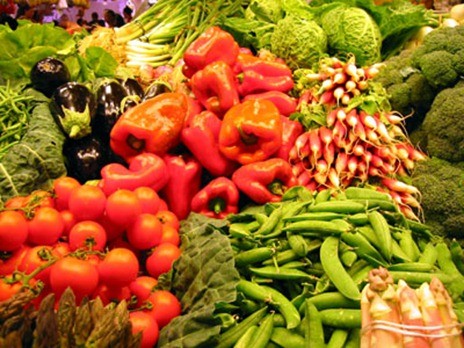 It's not only pepper and tomato that can be found in La Huerta! You can find many other vegetables of every kind, all used frequently in cooking too. For example, Zucchini, aubergines, beans, artichokes, cauliflowers, and much more! You can see a list of all the vegetables available at La Huerta here.
The most common fruits in Murcian cooking are citrus fruits (oranges and lemons). They are used in loads of recipes. Many people think Murcians use the lemon almost too much, we even put it in our soup! But there aren't just citric fruits, we have loads of others in La Huerta too.
Meat
Meat is also a very important part of Murcia's gastronomy. Farm animals are the most prominent in dishes, the likes of pork and lamb especially. Game is also used a lot, rabbit and hare among some of the most popular.
Pork meat especially is used in many different ways and is a main ingredient in many traditional recipes, mainly sausage like 'salchicha', 'loganiza', 'morcón' and 'chiquillo'... In Murcia they still celebrate 'Matanza' during which they slaughter a pig to make the aforementioned sausages. Also, as I'm sure you didn't already know, Murcia has it's own breed of pig called Chato Murciano.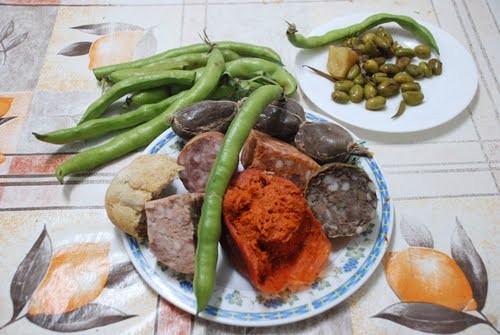 We also can't forget lamb. Lamb chops, legs of lamb, shoulders of lamb... all very popular cuts of meat. Lamb is eaten from when they are very young (lamb chops) to when it becomes an adult. There is also a Murcian breed of lamb too, called Cordero Segureño.
To finish with the meat section, we must lastly talk about rabbit and hare (two very similar animals). These animals are used in stews, rice dishes or roasts.
Here you'll find a list of all the different kinds and cuts of meat used in Murcia.
Seafood and Fish
Thanks to the many seas that surround the region of Murcia, its fish and seafood is of huge gastronomical importance. There are also species unique to Murcia like La Dorada(Gilt-head bream) from the Mar Menor, and El Mújol(mullet) or Los Langostinos(King Prawns) from the Mal Menor as well. Many of these fish are caught using the methods used in Arabic times, a method consisting of trapping the fish in a maze/labyrinth called Encañizada.
Salazones(Salted fish) is also another typical ingredient for Murcian cooking. Made by covering the fish in salt so that you can preserve it for a while, whilst also giving it a slightly different taste. Fish roe and tuna are also products usually salted in this way and very popular in Murcia.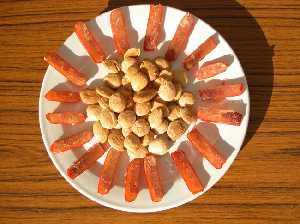 You can find more info aboutfish y seafood on the Region of Murcia website.
Typical Dishes and Traditional Murcian Recipes
Now we are going to have a look at Murcia's most signature dishes. Don't think I've left out some of the more important recipes as at the end I'll be doing another list with 10 dishes you have to try if you come to Murcia.
Tapas and Hors D'Oeuvres
Murcia's most signature tapas dishes are inspired by La Huerta. Let's look at some examples.
Patatas con Ajo: roast potatoes with a Alioli sauce (like mayonnaise but with garlic).
Pimientos Asados: simply pepper with oil and garlic.
Ensalad de Pepino: a fresh tomato, cucumber, garlic and vinegar salad.
Perdices: small buds of lettuce with different dressings or other vegetables.
Mar y Tierra: artichoke hearts with anchovies.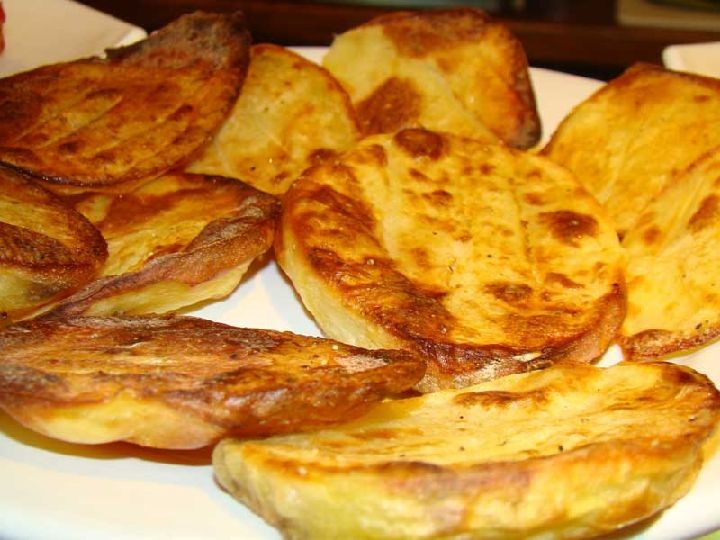 There are also loads of other tapas dishes made with all the other ingredients I've spoken about. Here are a few. Warning! Do not read with an empty stomach.
Gambas al Ajillo: the name says it all, delicious prawns with garlic and chilli, delicious and hot!
Tigres: these are rare mussels, fried and hot. If you don't believe me, try them.
Caballitos: finger lickin' breaded shrimp (you eat with your hands).
Alemndras: almonds with roe and tuna, very Murcian.
Ensalada de Ahumados: a fusion between salted fish and almonds with La Huerta.
Embutido: a mix of all the different types of sausage I mentioned earlier.
Magra con Tomate: beef and fried tomatoes.
Empanadillas de Bonito: fried tomato pies.
Albóndigas de Bacalao: Cod meatballs, delicious!
You can enjoy loads more tapas and hors d'oeuvres recipes. I just wanted to give you some of the most popular.
Main Courses
Now the most delicious dishes, starting with rice. In Murcia, just like the rest of eastern Spain, rice dishes are very traditional. The rice that comes from Calasparra is a special kind, one used in the best stews and paellas in Spain. It´s kind of like 'Bomba' Rice known for absorbing more flavour and sauce, making the dish even more delicious.
There are many different rice based recipes, but worthy of specific mention is the rice and vegetable dish or Arroz Huertano, and I'm sure you can already guess what it has in it! Also, another very typical dish is Arroz con Costillejas, which is rice mixed with pork ribs and vegetables from La Huerta. Last but not least, there is Arroz con Conejo y Serranas (snails, yes, it has snails) which is perhaps the most traditional dish of them all, and definitely one of the best.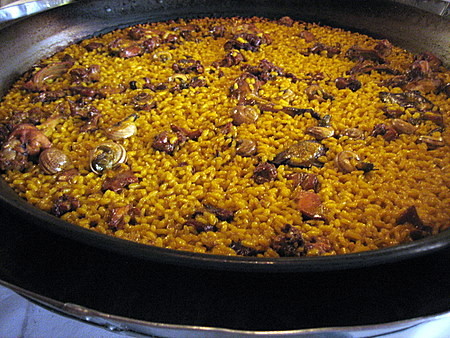 Other meat and fish dishes also worth a mention are...
Chuletas de Cordero al Ajo Cabañil: a mixture of meat with a garlic salsa and delicious vinegar.
Conejo Frito con Tomate: fried rabbit with tomato, the name says it all.
Cabeza de Cordero al horno: although it sounds horrible (Lamb's head), you'll love eating the eyes!;-)
Dorada del Mar Menor a la sal: a delicious fine dining fish dish.
Bacalao con Tomate: more common but still packs huge amounts of flavour.
To finish, we have to talk about stews, or what are also called Platos de Cuchara. Like the whole of Spain, Murcia is no different in having it's own 'comidas de abuela' (the grandmothers are usually the heads of the kitchen), slow cooked in large pans with lots of love and attention. La Olla Gitana and the Cocido con Pelotas are the most important traditional Murcian stews. They are made with vegetables first and foremost, and for an extra taste sensation, lamb is usually added.
I'll leave you some links so you can look at some of the typical Murcian dishes we have talked about. Rice, stews, fish, meat and finally desserts.
Top 10 Typical Dishes
We are not quite finished yet! Here we have the most typical Murcian dishes :-). After asking a lot of Murcians and thinking about it a bit myself, I've made a list of the ten dishes that best represent Murcia's gastronomy according to what these people like the most. You are not allowed to come to Murcia and not try all of these local delicacies!
This list isn't in any particular order as I simply couldn't choose between them. All 10 are my favourite dishes, and all 10 are extremely delicious.
Caldero del Mar Menor: rice stew made with rock fish stock from Mar Menor, ñoras (dried peppers from Murcia), garlic, tomatoes and saffron. The rice is cooked like an Italian rissotto, loads of flavoursome sauce. The fish used to make the stock is served separately. The dish is finished off with alioli (we just call it garlic here in Murcia). Spectacular!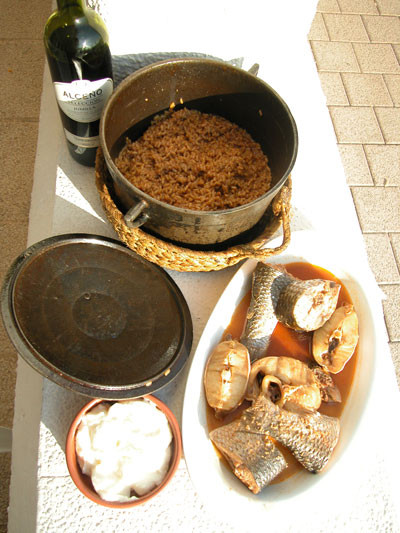 Asado de Pierna: roast leg of lamb, cooked with vegetables such as potatoes, onions and peppers. Any classic village bar would be a great place to try it.
Michirones: a warm stew made with large dry beans, spices and lamb. A big f*** you to the Winter cold.;-)
Ensalada Murciana: this salad is made with tomato, Cieza olives, onion, tuna and hard boiled egg. Equal parts refreshing, healthy and delicious.
Marinera: famous Murcian tapas. A small russian salad (potato, tuna, tinned veg) served on fine toasted bread with an anchovy placed on top. See if you can eat it without anything falling off!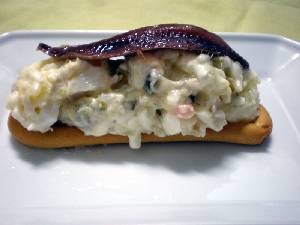 Zarangollo: a simple recipe of La Huerta. Zucchini, onion and eggs. A kind of scrambled eggs typical to Murcia, something you have to try.
Pisto Murciano: there are loads of different types of ratatouille, but in my opinion, none of them are a match for Murcia's own. Fried with different vegetables from La Huerta. The amazing tomatoes, peppers and aubergines make this ratatouille one special dish.
Paparajotes: the only dessert that I have mentioned in the whole article must be worth it, no? Ah! Just make sure you don't eat the lemon tree leaf!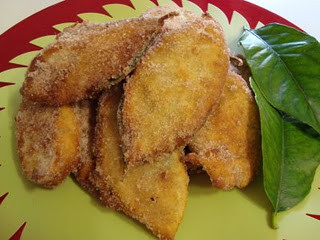 Pulpo al Horno: not many people know this is a typically Murcian tapas dish. But if you think that the best octopus in Spain belongs to Galicia and you haven't tried Murcia's yet, you'll be in for quite a shock. In Murcia, they bake huge octopus in the oven with onion and beer. Don't forget to add a squeeze of lemon... as always.
Pastel de Carne: a Medieval recipe with a slight Muslim twist to it. This amazing pastry is savoury, not sweet, and made with puff pastry. Inside it has meat, boiled egg and chorizo. If you think it sounds strange, try it, then get back to me.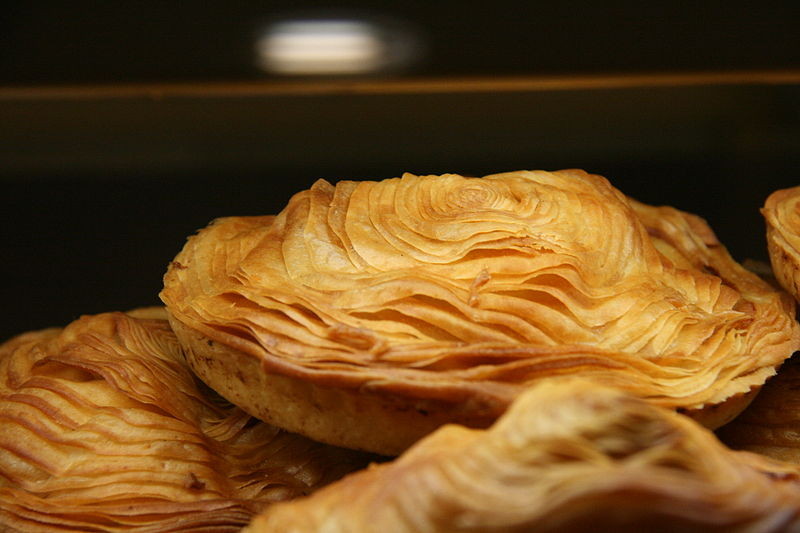 We could go on, but that's all for today. From Furgocasa we hope this short Murcian food guide has helped anyone reading it; campers, travellers, etc. If you have any questions, want to correct something, want to know more about something in particular or simply find out the best place to have a 'Marinera', don't hesitate to contact us.
Let's eat! and rent a campervan!
Furgocasa