THE BEST CAMPERVANS
AT THE BEST PRICES
How much does it cost to rent a motorhome?
Discounts of
-5%, -10% y -15%
in rentals exceeding 1, 2 or 3 weeks
Where to rent your campervan motorhome near Murcia?
Murcia - Sangonera la verde
Murcia - Sangonera la verde
Nuestra sede principal se situa en Sangonera la Verde. A tan solo 10 minutos de Murcia, capital de la Region se encuentra a menos de una hora de la playa y de la montaña. Ubicación perfecta para comenzar tu viaje. 


Disponemos de servicio de APARCAMIENTO GRATUITO en esta sede durante el tiempo que dure tu alquiler.
Murcia - Aeropuerto de Corvera
Alicante - Aeropuerto El Altet
Low and Mid seasons
How to book a camper van for a weekend?
During the low and mid season, with minimum rental duration of 3 days, YES, we offer weekend rentals.
Since daily prices are applicable for 24 hours, when you rent for more than two days (over 48 hours) you may pick up your Campervan on Friday, at any time, and return it late in the evening; in this instance, you would be paying a fee for three days.
Although the search engine forces you to search for a minimum of three whole days, it is very simple to do a search for a shorter period of time.

All you need to do is manually enter the date (not selecting it from the calendar) and choose any time, after the pickup time, as the return time.

It is very easy. You can see how it is done in this video.
Our headquarter in Murcia
Campervan motorhome hiring in Murcia
Situada a orillas del río Segura, Murcia es conocida con el sobrenombre de "la Huerta de Europa", gracias a su fértil huerta, que exporta frutas, hortalizas y especias a todo el continente.

Ello la convierte en un paraíso para los aficionados al turismo en autocaravana campervan, ya que su huerta ofrece un entorno primaveral durante todo el año, para pasear disfrutando de los colores de los frutales y los aromas a flores y especias.

También es paraíso para vegetarianos, ya que la cocina murciana ofrece muchas recetas originales y sabrosas a base de verduras y hortalizas. Entre ellas destacan por típicas, el zarangollo, el pisto, la ensalada murciana y el arroz con verduras o habichuelas. Ello no impide que encontremos también deliciosas recetas de carne como el típico pastel de carne ó el de cierva.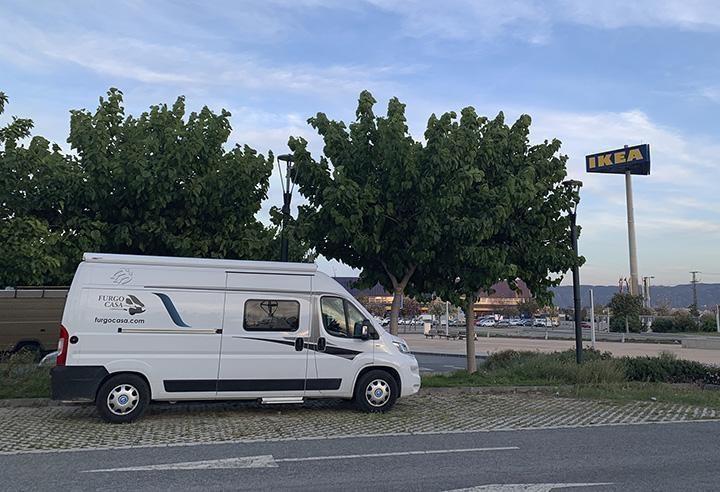 MOTORHOME CAMPERSTOP AREA
MURCIA
Murcia cuenta con un área de autocaravanas municipal situada en el centro comercial Thader, frente a la tienda Ikea de Murcia.
El área es gratuita y cuenta con servicios de vaciado de aguas grises, negras y llenado de aguas. No tiene electricidad.
En centro comercial Thader se encuentra a apenas 10 kilómetros del centro de la ciudad de Murcia y cuenta con transporte publico regular hasta el centro.
Es un sitio muy concurrido por otros autocaravanista y muy cómodo: pues además de estar cerca del centro, cuenta con todo tipo de servicios alrededor: tiendas, restaurantes, cines, etc.
Ver en Google Maps
Especializados en Camper Vans
de Gran Volumen
En FURGOCASA estamos especializado en lo que se conoce como autocaravanas Campervans de Gran Volumen (GV Campervans).
Si lo que buscas es un vehículo versátil, apto para circular a diario por la ciudad o para disfrutar de un viaje de aventura o de una escapada de fin de semana, el vehículo tipo camper es tu aliado.
Un segmento que sigue ganando adeptos temporada tras temporada.
De ahí que los fabricantes de autocaravanas ofrezcan cada año más modelos, nuevas líneas y equipamientos más completos, y que aumente el número y la variedad de pequeños fabricantes o camperizadores que explotan su ingenio para enseñar propuestas realmente novedosas y que convencen por su practicidad.
Las campervans son probablemente los vehículos más de moda en la actualidad. Los avances de los últimos años las han convertido en una opción muy completa para viajar de alquiler. Cuentan con todas las comodidades de una autocaravana en un vehículo mas reducido, que no supera la anchura de un turismo normal y que, por eso, permite una mayor movilidad, posibilidad de mayor acceso a los sitios que se visitan y libertad a la hora de pernoctar. Perfecto para parejas, con o sin niños pequeños, esta ha sido la opcion escogida por FURGOCASA para ofrecer en alquiler.
Las autocaravanas son vehículos grandes e integrados y, por lo general, son las que cuentan con más espacio habitable. Las hay de varios tipos (capuchinas, perfiladas, integrales, …) y acabados. Debido a sus grandes dimensiones, es difícil usarlas para estacionar fuera de los sitios específicos de pernocta. Son especialmente recomendables para viajes de varias personas o en familia. En este caso, FURGOCASA no alquila autocaravanas.
Una caravana es un remolque camper que es remolcado por otro vehículo. Varían en tamaño y diseño, desde el estilo de lágrima hasta los remolques de caja plegables. Son a menuda confundidas con las autocaravanas y campervans. No alquilamos caravanas.
Las furgonetas campers serían, en su caso, furgonetas normales utilizadas regularmente para el transporte comercial y de personas, adaptadas de forma básica para poder dormir en ellas. Estaríamos ante la opción más pequeña, versátil y básica de los vehículos autopropulsados. En la mayoría de los casos no cuenta con ducha o WC. Sin desmerecer esta opción, en FURGOCASA pensamos que no es la apropiada para vivir una buena experiencia de alquiler, pues entendemos que no es como viajar con tu casa a cuestas.
Essential apps for traveling in Camper Van
Main destinations to visit with your Camper Motorhome near Murcia